4 Mouthwatering Ways To Cook With Whiskey
4 Mouthwatering Ways To Cook With Whiskey
The world of whiskey is vast and complex, boasting numerous variations that can be enjoyed in all sorts of ways. Over the years, the perception that this malty spirit is only meant for nosing, tasting, and drinking has changed drastically, since it turns out that whiskey does not only pair nicely with food, but it also goes well IN food.
Chefs are getting pretty innovative nowadays as whiskey is increasingly venturing out of the drinks cabinet and headed into the kitchen where it can be used to great effect in both sweet and savory dishes. When used in cooking, whiskey is the alcoholic equivalent of salt, bringing out the flavor of the sea in seafood, the sweetness in a dessert, and the smokiness in smoked foods. While the listed recipes below do not cover all the mouth-watering recipes out there, here are some finger-licking recipes and cooking tips to get acquainted with:
Jameson Whiskey Blue Cheese Burger
The fantastic thing about burgers is that they are typically easy to prepare and without hassles. The Jameson's whiskey blue cheese burger is smothered with crispy onions and generous Guinness cheese sauce. Here's how you can prepare this finger-licking cheeseburger for yourself:
Ingredients
2 halved large white onions sliced very thin
Buttermilk, 2 cups
Flour, 2 cups
Kosher salt, 1 tablespoon
A pinch of pepper plus cayenne pepper
Frying oil
¼ cup of Jameson whiskey
¼ cup ketchup
Soy sauce, 2 tablespoons
Honey, 2 tablespoons
1 tablespoon of dijon mustard
Worcestershire sauce
1 ½ pounds ground meat
Blue cheese, 4 ounces
Salt and pepper
4 good quality buns toasted
4 tablespoons of unsalted butter
½ cup Guinness beer
Flour, 4 tablespoons
½ – 1 cup of milk
8 ounces of sharp cheddar cheese
Cooking Directions
For the Crispy Onions
1. Add sliced onions onto a large bowl and pour in the buttermilk. Immerse the onions in the buttermilk and let them sit for 10 – 30 minutes.
2. Next, add the flour, salt, and a pinch of both cayenne and pepper to a bowl, then mix together. Once evenly mixed, heat up some oil, take out the onions from the buttermilk and place in the flour mixture, making sure they are evenly coated. Tap them inside the bowl to shake off the excess flour.
3. Drop the onions carefully into the hot oil and let them fry until golden brown, then remove them and place on a paper towel lined plate.
For the Whiskey Glaze
1. Add the whiskey, ketchup, soy sauce, honey, mustard, Worcestershire sauce, cayenne and pepper to a small saucepan.
2. Boil together and reduce the heat to a simmer until the sauce has thickened slightly.
3. Keep the sauce warm over low heat until it is ready to serve.
For the Burger Patty
1. Divide the ground meat into four sections and place a cheese cube in the center of each, covering it completely.
2. Preheat the grill or grill pan with a medium to high heat
3. Season the patties with some salt and pepper then grill to your satisfaction
For the Cheese Sauce
1. Heat up a saucepan over medium heat, add the butter and stir until it has completely melted, then add the flour
2. Whisk these together for 1 – 2 minutes until the mixture gets a bit of golden color, then add the beer and half a cup of milk.
3. Stir until the mixture becomes thick, then add the cheddar cheese still stirring until the mixture is smooth. Season with salt and pepper to your taste.
Serving Suggestion
Place each burger on a toasted bun and top with a good amount of whiskey glaze and cheese sauce. Add the crispy onions generously and place the top bun. Dig in!
Irish Apple Crisp
Irish apple crisp is an easy-to-make comfort dessert that will turn you into Oliver Twist as it leaves you wanting seconds (and thirds). It is a simple, tasty and scrumptious dish with a crusty crumble baked top that is perfect for your next St Patrick's Day celebration.
Ingredients
2 pounds peeled and thinly sliced apples
Freshly squeezed lemon juice, 2 tablespoons
¾ cup light brown sugar
Irish whiskey, 2 tablespoons
Cardamom ¼ tablespoon
Pinch of salt
1 teaspoon ground cinnamon
All-purpose flour, 1 cup
Irish oatmeal, ¼ cup
6 tablespoons of cold unsalted butter
⅓ cup toasted, chopped walnut pieces
Freshly whipped cream and caramel sauce for the topping
Cooking Directions
Get started by preheating your oven to 375 degrees Fahrenheit and spray an 11×7 inch baking pan with nonstick spray. Next, get a large bowl and stir the apples with the lemon juice, then mix in ¼ of sugar, cinnamon, cardamom, whiskey and salt. Scoop the apples into the prepared dish and scrape the juices on the top.
Next, whisk the flour, oatmeal and the ½ cup of sugar left in a bowl until finely and evenly mixed; then add the butter and use your fingers or a pastry blender to immerse the butter into the mixture until it looks like coarse crumbs. Stir in the walnut pieces and sprinkle the crumb mixture uniformly over the top.
Bake for 35-40 minutes until golden brown and bubbly, then serve warm with the caramel sauce and freshly whipped cream. Enjoy!
Honey Chipotle BBQ Chicken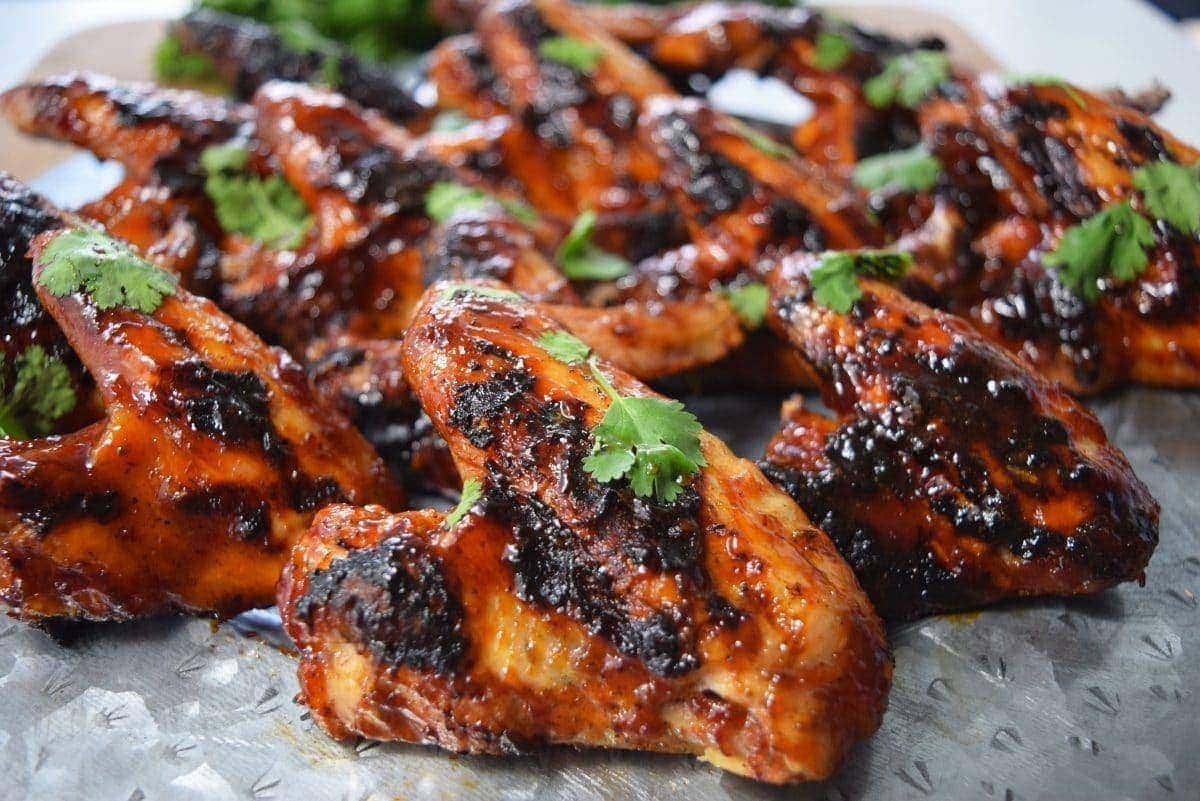 Adding the divine flavors of whiskey and honey to an already tasty barbeque chicken gives the dish extra smack that is simply to dine for.
Ingredients
12 pieces skin on, bone in chicken (thighs and legs usually work best)
Salt and pepper to taste
½ onion, diced
4 crushed garlic cloves
2 tablespoon oil
2 tablespoon butter
¼ cup tomato paste
⅓ cup of whiskey or bourbon
1 cup ketchup
1 small can chipotle peppers in Adobo sauce(use 2 to 3 tablespoons of Adobo sauce)
3 tablespoons of Worcestershire
2 tablespoon of balsamic
½ cup of honey
3 tablespoons molasses
1 tablespoon of soy sauce
½ cup of water
Cracked pepper
Cooking Directions
For the BBQ Sauce
Add the diced onions and smashed garlic in oil and butter on medium to high heat and saute until tender. Then add the tomato paste and stir continuously for about two minutes. Deglaze with the sauce with whiskey or bourbon and let it simmer for a minute before adding the remaining ingredients (chipotle, adobo sauce, Worcestershire, ketchup, balsamic, molasses, soy sauce, cracked pepper and water). Add salt to taste and adjust as needed for sweetness and heat to your preference then cover and keep on low heat until you're ready to use.
For the Chicken
Preheat grill to high heat and sprinkle chicken with salt and pepper on both sides. Lay the chicken, skin side down on the hot grill for about 5-7 minutes, turning it as needed to give it a good sear while making sure it doesn't get burnt. Next, turn the grill to medium-low heat and let the chicken cook for around 20 minutes; flip them over and baste both sides with BBQ sauce until you are satisfied with the cook on them. Turn grill up to high and give skin sides one last hot sear to crisp them up. Grab a plate and dig in!
Chocolate Mocha Buckwheat Cake
With the heat of the whiskey, the gooey goodness of the molten chocolate, and the kick of coffee, this chocolate mocha buckwheat cake will add a little spring to your guests' steps. It is a very rich dessert that is perfect for any adult dinner party.
Ingredients
150g of dark chocolate
100g tablespoon of butter
1 tablespoon of whiskey
4 egg whites
50g of sugar
3 tablespoons of black coffee
75g of almond meal
4 egg yolks
80 ml of natural yoghurt
Cooking Directions
Preheat the oven to 350 Fahrenheit and line a 20cm springform tin with an exact circle of greaseproof paper on the bottom, then begin greasing the inner of the tin with some butter. Next, place a glass bowl over a saucepan with boiling water and gently melt the chocolate and butter in the bowl. Keep an eye on the mixture and stir occasionally so there are no lumps. Add the whiskey and coffee and stir continuously until the mixture is smooth, then take off the heat and allow to cool.
Whisk the egg whites with sugar until they form stiff peaks. Next, add the almond meal, yoghurt, egg yolks, sugar and buckwheat to the cooled chocolate mixture. Gently fold the egg whites into the chocolate mixture. Pour the batter into the prepared cake tin and bake for 30-35 minutes, then allow to cool for 10 minutes before removing the cake from the tin and leaving to cool again on a wire rack. Garnish the cake with the mini meringues/chocolate curls. Serve and Enjoy!
Whiskey has an unbelievably diverse flavor spectrum. Its aging process in oak casks over the years makes it ideal for enhancing a wide variety of flavors in foods. And don't worry, it will not give the same alcoholic kick that you feel when you drink it since the alcohol burns off and leaves behind an incredible depth of flavor. The cooking method also determines whether alcohol remains in the finished dish and how much — for instance, with flambéed foods, a good amount of the alcohol evaporates out.
There you have it! Would you cook with a single malt, or is it so precious it must only be sipped? Let us know in the comments section below and subscribe to our blog for more updates from the exciting world of whiskey.