5 Mind-Blowingly Easy Cocktails Guaranteed To Make You A Whiskey Person
The shifting palates of millennial drinkers have seen the whiskey market doing better than ever, especially when it comes to the cocktail world. Is it the smoky sweetness of caramel and vanilla against the warming burn of alcohol? Or the smooth chill that slowly spreads across the body after each sip? Maybe all of those, maybe none, but one thing is certain, whiskey is the preferred elixir of choice across the board.
Now there's no denying that whiskey is a superb liquor on its own and there's absolutely nothing wrong enjoying it neat or on the rocks. But why stop there? There are so many easy mixes available today affording you the opportunity to savor your whiskey in exciting ways and while this list certainly doesn't cover them all, these five are quintessential whiskey mixes with which to get acquainted:
1. Classic Manhattan
A couple of drops of cherry juice syrup from the jar of maraschino cocktail cherries, sweet vermouth and Angostura aromatic bitters are what draws out the complexities of the spicy rye whiskey. It is perfect for people who are not necessarily whiskey drinkers or find cocktail overpowering. You can choose to adjust the recipe with different sweet vermouth depending on your sweetness level.
Any choice whiskey can also be used, but if you're looking for a good, quality rye whiskey, try Bulleit Rye. Its appeal is simply hard to beat it in a Manhattan. All these tweaks can be made between the red vermouth and the whiskey, but what stays intact is the Angostura bitters, since its unique flavor is a must for any classic Manhattan.
Recipe
2 ounces of rye whiskey
1 ounce of sweet vermouth
3 dashes of Angostura bitters
A few drops of cherry syrup
Instructions
Fill a cocktail shaker with ice.
Add sweet vermouth, whiskey, Angostura bitters and cherry syrup(if using)
Stir for 90 seconds
Pour into a martini glass
Garnish Manhattan with cherry
Recipe notes
The cherry syrup is not traditional, but it does give the classic Manhattan a slightly sweeter flavor.
Dry vermouth should never be used for this drink, only good quality sweet vermouth.
Some recipes also suggest rubbing an orange peel around the rim of the mixing glass or adding a dash of orange bitters as well can also get you the same effect.
The perfect Manhattan is not shaken but stirred and served ice cold
2. Old Fashioned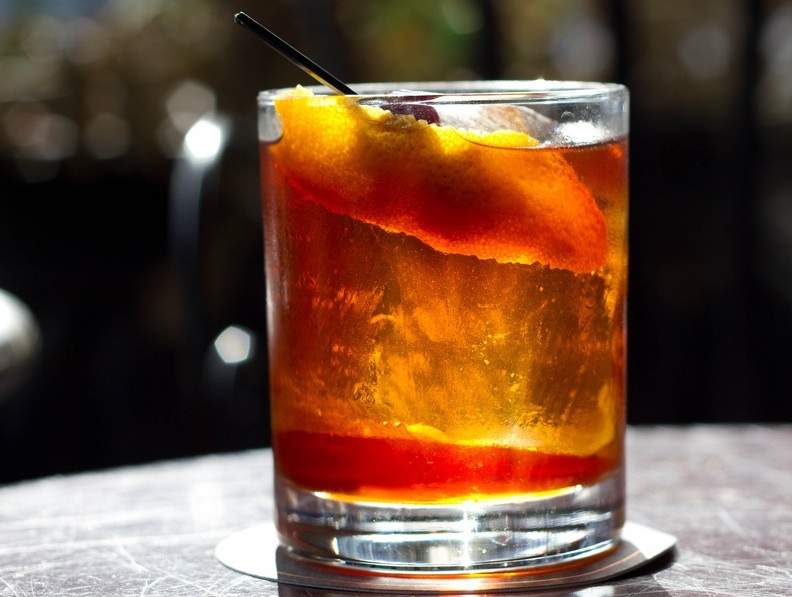 A sugar cube in Angostura bitters, an orange peel and a shot of whiskey is all you need to create this classic cocktail. The old fashioned mix is one of the best ways to enjoy an amazing rye whiskey or bourbon. Rye whiskey was always the authentic choice for the old fashioned but over the years, the selection and choice of the good ryes declined, so bourbon became the next best substitute, giving the drink a more viscous and balanced appeal.
While bourbon remains a top choice for many drinkers today, we have the luxury of a sprouting rye market, so if you want to keep things traditional, you're still good to go. If you're out of both rye whiskey and bourbon, don't fret — Old Fashioned works with many other types of whiskey, so feel free to try it out with what you have. The bitter, sweet, and fruit flavors added to the glass will enhance any whiskey you pour.
Recipe
1 cube of sugar
2 to 3 dashes of Angostura bitters
2 ounces of bourbon or rye whiskey
Orange peel garnish
maraschino cherry
Instructions
Take an old fashioned glass and place the sugar cube at the bottom
Soak the cube up with bitters and muddle
Fill the glass with large cubes of sugar
Add whiskey and stir well
Garnish with cherry and an orange peel
Recipe Notes
Top off the drink with a splash of club soda if you're looking for something fizzier
The trick to getting this classic mix just right is in how you use the orange peel. Squeeze and twist the orange peel to release all of the oils and flavors, to enhance the cocktail.
This recipe uses the traditional sugar cube instead of simple syrup. While the sugar cube makes for an excellent drink, the simple syrup keeps your drink from being grainy if the sugar doesn't fully dissolve.
3. Sazerac Cocktail Classic
The Sazerac is an impressive and timeless cocktail from New Orleans. It was originally made from cognac before the liquor in question changed to rye whiskey. Sazerac is a simple recipe and a really nice way to spruce up your favorite whiskey. When made properly, it is one of the best epitomes of a balanced drink that you will find with the anise, bitters, and sugar perfectly accenting a good rye. A well-made A Sazerac cocktail is a thing of beauty, but a poorly made one can turn you off cocktails for a while, so make sure to get it right.
Recipe
1 cube of sugar
Peychaud's bitters
3 ounces of rye whiskey
3 drops of absinthe(Herbsaint or absinthe substitute)
Lemon garnish
Instructions
Fill and chill an old fashioned glass with ice while preparing the rest of the drink.
Soak the cube of sugar with Peychaud's bitters in a mixing glass.
Add rye whiskey and stir
Dispose of the ice in the chilled glass and rinse with absinthe by pouring a small amount into the glass, swirling it around and dispose of the liquid.
Pour whiskey mixture into the rinsed glass
Garnish with a lemon twist
Serve and enjoy
Recipe Notes
Many traditional drinkers of this delightful mix state that a lemon twist should be squeezed over the drink to release its essences and then rubbed on the rim of the glass, but should not be dropped into the cocktail itself.
4. Blackberry Malt Cocktail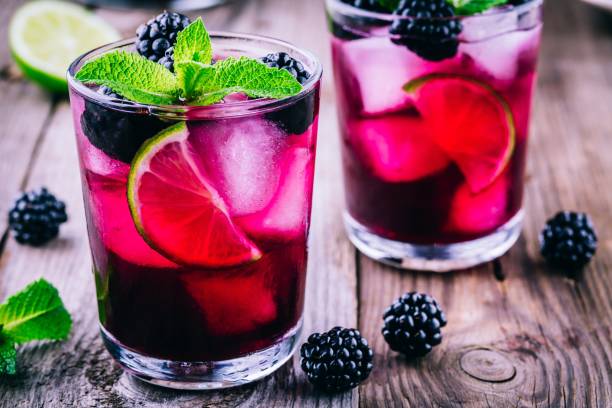 This strong flavorful mix involves single malt Irish whiskey paired with fresh fruits. The vanilla notes and apricot flavor of the Irish whiskey perfectly compliment the fresh blackberries, annexing the drink's tasty and refreshing qualities. It is the go-to drink for spring and summer and is suitable for just about any occasion, like a backyard cookout or a day at the beach.
Recipe
4-5 fresh blackberries
¾ ounces of simple syrup
¾ ounces of Irish whiskey(Irishman single malt)
¾ ounces of lime juice
3 ½ ounces of sparkling water
lemon peel
Instructions
Muddle the blackberries with simple syrup in a cocktail shaker
Add whiskey and lime, shake well with ice
Double strain into a long glass over fresh ice
Add sparkling water
Garnish with a blackberry and a lemon peel
Serve and enjoy
Recipe Notes
Even though the drink is named Blackberry Malt, you can also use raspberries
This recipe works well with other types of whiskey or bourbon
Double straining helps bits of the berry out of your finished Irish whiskey
Give the lemon peel a squeeze over the drink to sprinkle its oils on the drink, adding a soft citrus essence to the taste.
5. The Godfather scotch and Amaretto cocktail
The Godfather is a nice and simple drink that does not compromise the scotch whiskey but enhances its flavor. The almond-scented amaretto softens the scotch, but it is still one of those stiff drinks that you can enjoy after a long day.
Recipe
1 ½ ounce of scotch whiskey
½ ounce of amaretto liqueur
Instructions
Gather the ingredients
Put together the ingredients in an old fashioned glass with ice cubes
Stir well
Serve and enjoy
Recipe Notes
The recipe of the Godfather involving a 3-to-1 ratio of scotch whiskey to amaretto produces a sweet drink, but not as sweet as the 1-to-1 ratio.
Whiskey has been the go-to liquor for generations. Nowadays, the emphasis is not just on the external effect but also on the inner experience and knowing the many delicious and refreshing ways to enjoy your whiskey only makes it more appealing. Want to learn more whiskey mixes? Subscribe to our blog today or simply leave a comment in the box below. We are always happy to share our experiences and whiskey expertise with fellow connoisseurs across the globe.